SEO Services Company Birmingham & across the UK
Blue Reliance: our approach to Search Engine Optimisation offers something extra special
A powerful perspective on SEO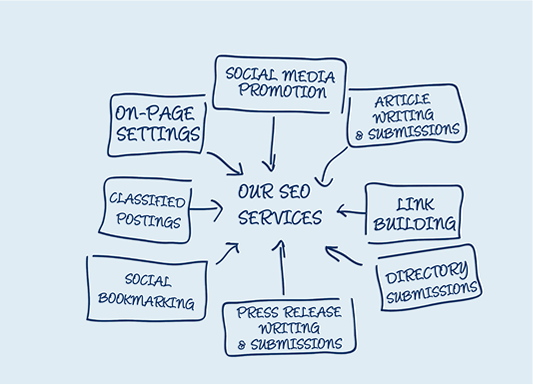 Search Engine Optimisation or SEO is explained by many companies in highly technical terms. At Blue Reliance, our aim is to de-mystify SEO for our clients—it isn't luck or magic!
Search engine optimisation is essentially about making small modifications to parts of your website that will gradually make a big impact. These changes might seem like incremental improvements, but when combined with other optimisations, they have a noticeable impact on your website's user experience and performance in organic search results, for example SEO Birmingham in Google.
Our optimisation decisions are always based on what's best for the visitors of your website. We believe that Search Engine Optimisation is about maximising opportunities for your business in terms of search engine visibility, whilst always remembering that your ultimate consumers are your web users, not search engines. Many of our competitors do not share these beliefs.
Introducing our SEO service
Our complete package for Search Engine Optimisation, Search Engine Marketing and Social Media Marketing is tailored specifically to every individual business. We usually target up to 10 keywords and, if it hasn't been completed in advance, we will conduct keyword research. Once the 10 keywords are agreed, a regular report on local and global searches for the keywords and a detailed website analysis is produced. The actions we take on your behalf are based on the sound evidence we collate to enhance your website's effectiveness as a sales and marketing tool.
Further SEO services we provide include:
On-page settings
Links from blogs and forums
Social bookmarking
Article writing and submissions
Social media profile creation and promotion
Classified postings
Birmingham-specific SEO
Search engine and directory submissions
Press release writing and submissions (if applicable)
These activities help you to promote your business online and result in better website rankings. All of these SEO services are maintained appropriately over time and are important elements of an overall SEO strategy.
Our services are extremely competitive because you pay us based on results. We do not lock you into long term contracts —our minimum contracts are for 3 months. This is because SEO is not a quick fix. It normally takes at least 3-6 months to start seeing results, as search engines have introduced measures to prevent websites from short-cutting their route to the top of search engine rankings.
In contrast to our competitors, we can back up our claims. Stay with us and a substantial return on your investment is guaranteed.
Featured service: Facebook profiles
As part of our social media profile creation services, we've found that Facebook business pages are achieving some excellent results. A Facebook page provides a central place to grow your business, build your brand and develop valuable business relationships on the world's largest social network.
Blue Reliance develops bespoke Facebook profiles for a diverse range of clients, with satisfied clients in the Engineering sector including Undergear Engineering and Malthouse Engineering.
These clients are delighted that their Facebook presence is building new followers, which is leading to an enhanced awareness of their services, whilst also contributing to higher search rankings for their websites.
So what makes our SEO Birmingham services extra special?
The SEO industry has developed a bad reputation of making wild promises to businesses about quickly getting them on the first page of Google search listings.
We prefer much more honest and open communication with our clients. It may take some time to get you the results you want but we will always be driving your business success forward online, every step of the way. We will demonstrate exactly what progress is being made and will measure the results via detailed analysis and reporting. Sensible, insightful recommendations are made to help you—all at extremely fair and competitive prices.
Our biggest selling point is our status as an IT services and computer support company. By building strong, long-term relationships with our clients as their IT provider, we gain an immense amount of knowledge about their business activities and productivity levels. As a result, we find that we understand overall strategic aims and business objectives clearly, in contrast to many other SEO companies, who have a much broader and shallow approach. Naturally, this offers us a distinct advantage in terms of choosing relevant keywords to target and helps ensure high monthly searches by web users.
We pride ourselves on exceeding our clients' expectations, which is why they're happy to recommend us for SEO services. All client references are available upon request and we're more than happy for you to speak to any of our clients before deciding whether you want to work with us.
We're constantly committed to improving your online marketing efforts, so give us a try to find out what makes our SEO services extra special and ahead of the rest. Our client base includes SEO Birmingham.
Get in touch
To discuss SEO or any of our other services in more detail, contact us for an informal consultation:
Tel: 0121 270 4470
Email: info@bluereliance.co.uk